Facilities at the Hotel St Moritz for meetings and events
All our facilities at the Hotel HCC St Moritz are now open for business, whether you're looking for accommodation in a central location for your next stay in Barcelona, or perhaps the ideal place for your next corporate event or meeting now that most offices around the world have temporarily shut down. The Hotel HCC St Moritz offers quiet, intimate spaces with all the services you could possibly need for every kind of meeting and event.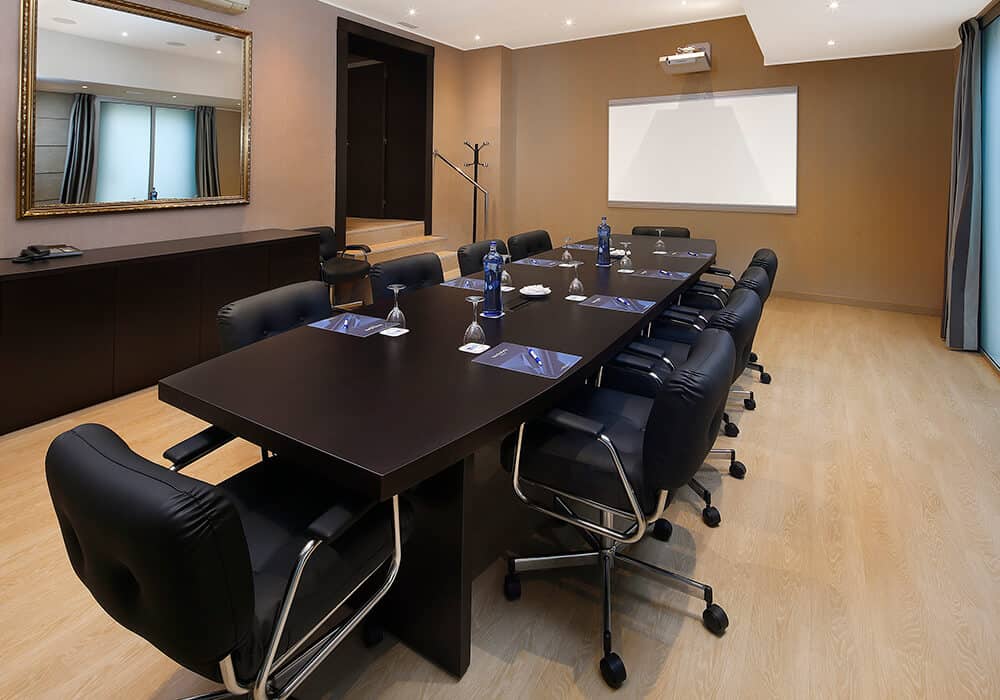 Our facilities are your facilities!
Found just off Paseo de Gracia at 264 Calle Diputació in the very heart of Barcelona, our hotel offers 3 separate impressive spaces for events. In the current climate, these spaces could be the lifesaver you're looking for when you need to organise face-to-face events, like conferences, interviews or even a breakfast meeting, whether with employees, clients or suppliers.
Firstly, Sala St. Moritz on the ground floor offers a large table in a space filled with natural light where small meetings or video conferences can comfortably take place. One level down, you'll find Sala Montseny and Sala Pirineus, large spaces that are perfect for any type of meeting or event. In addition to being able to book them separately, the rooms can be joined together to create an even larger space, always perfectly adapting to your needs.
All our rooms offer the modern technical services needed to carry out a seamless business meeting or event, including WiFi, phone lines and state-of-the-art audiovisual systems. Similarly, they also have air-conditioning and heating, along with a whole range of optional extras, from coffee breaks and cocktail events to full menus.
Looking to hold your next meeting or corporate event outdoors on the terrace? We've opened up our impressive terrace at the Hotel St Moritz to our corporate guests looking to hold their next breakfast meeting in a unique setting, or perhaps a networking event whilst soaking up the relaxed atmosphere of the great outdoors.
If you're looking for something totally different whilst keeping safe, our rooms are spacious enough to cater for all kinds of events. Even our bedrooms at the Hotel HCC St Moritz are now available to be used as small studios or offices. Simply tell us what you need and we'll make it happen.
Given all the above, the various spaces at the Hotel HCC St Moritz are perfect for hosting all kinds of events. In short, if you're thinking of holding a corporate event or meeting without having to return to the office, remember, you can always get all the comforts and services you could ever need here with us.
Categories: barcelona
« Telefèric de Montjuïc, want to discover Barcelona from the sky?
The 5 Best Hiking Routes in Barcelona »