Gaudí's Casa Vicens, discover its rich history!
Casa Vicens, widely considered one of the greatest works of architectural heavyweight Antoni Gaudí, was built between 1883 and 1885 as the summer home of the influential Vicens family. Declared a UNESCO World Heritage Site in 2005, it perfectly exemplifies the early style of the world famous architect. Want to find out more? Discover the history of Casa Vicens!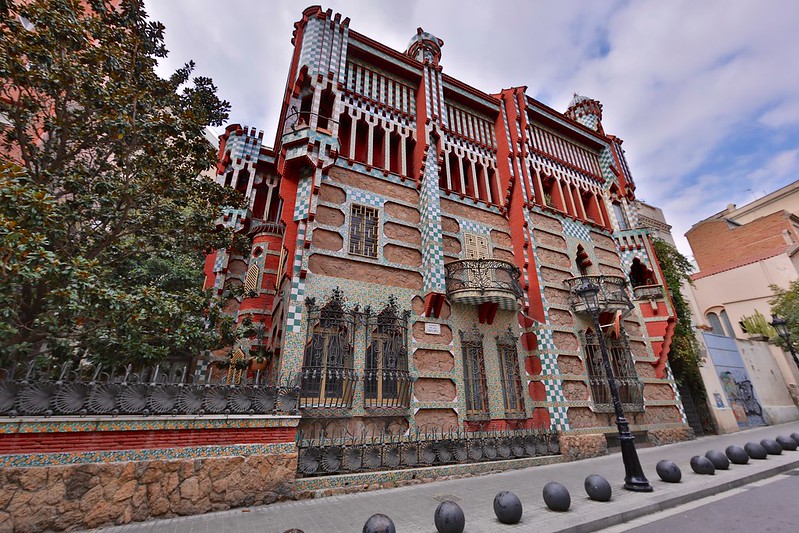 Casa Vicens, Gaudí's first major project at the age of 31
In 1883, just after he'd turned 31, Antoni Gaudí was called upon by Manel Vicens i Montaner, a wealthy Catalan bourgeois stockbroker. The meeting led to the maestro architect receiving his first big commission, to design and construct a summer residence and garden for the Vicens family.
Set to be built on the site of the old Vila de Gràcia, the designs presented to the owners of Casa Vicens included playful touches typical of the modernist architect's style that would go on to exemplify his creations.
As Reinald González, doctor of art history at the University of Barcelona, explains, if you look closely, you can see early hints of applied ceramics, prefabricated pieces, open walls and continuous paving in Casa Vicens.
The building is considered an oriental oasis, a unique space where Gaudí successfully merged various styles that he'd been studying to create his own, authentic Catalan modernism that all began at Casa Vicens.
Over 130 years of history at Casa Vicens
Officially declared a UNESCO World Heritage site in 2005, Gaudí's Casa Vicens has undergone numerous changes since the building was originally completed in 1885. Initially built as a summer residence, the Catalan architect focussed on achieving favourable climatic conditions throughout the building, a concept that was highly advanced for the time.
The architect has always sought inspiration in nature, which is present throughout the structure, from the railings to the façade. The entrance railings represent a palm leaf that will quickly catch your attention. The façade is made up of white and green ceramic tiles arranged in a chessboard pattern, which are combined with tiles featuring floral motifs reminiscent of the flowers of the Moroccan carnation.
In 1925, the first major renovation and expansion took place. In 1899, the Jover family acquired the property and in 1925, they commissioned Joan Baptista Serra de Martínez, an architect and friend of Gaudí, to expand Casa Vicens.
Until 2014, the house was always inhabited, but from that year on, when MoraBanc acquired the property, the opening of Casa Vicens as a museum began to be studied. In 2015, the renovation to adapt it as a museum began, and since 2017, the Casa Vicens museum can be visited. Don't miss it!
Categories: barcelona
« Discover the best of Barcelona from HCC Montblanc
Travelling to Barcelona on business? Discover the biggest and best trade shows happening in March »