Discover Barcelona's 6 most symbolic neighbourhoods
Barcelona is a city that's full of life, culture, history and tradition. And all these elements are reflected in the city's neighbourhoods, all unique and exciting places to visit. Each district has its own charm and offers a different experience. Which will be your favourite? Discover Barcelona's 6 most symbolic neighbourhoods on your next trip to Barcelona!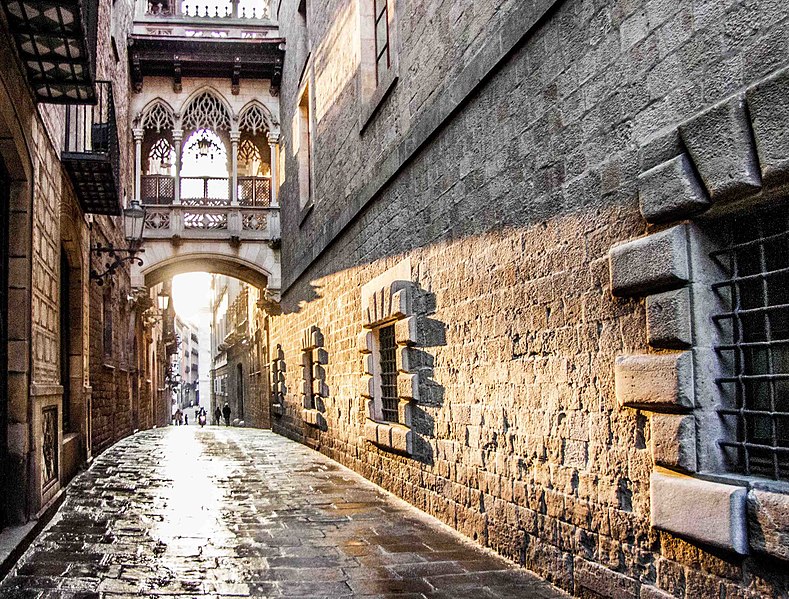 1. The Gothic Quarter
You've probably already heard of the Gothic Quarter, right? One of Barcelona's oldest and most well-preserved districts, this neighbourhood is located in the very heart of the city, the historic centre of Barcelona. The area is made up of small, cobbled streets, medieval buildings and living history around every corner, making it a place that's sure to leave a lasting impression. Undoubtedly, it's a must-see part of the city for fans of Catalan tradition.
Want to travel back through time? We recommend you take a stroll through the streets of the Gothic Quarter and take the time to stop and smell the roses. Along the way you'll find Barcelona Cathedral, an impressive Gothic structure that was built between the 13th and 15th centuries, Plaza Sant Jaume, where you'll find Palacio de la Generalitat and Barcelona City Hall, as well as Plaza del Rey, the main square, where you'll be able to see Palacio Real Mayor, one of the best examples of medieval architecture in Barcelona. Don't miss out!
2. El Raval
One of the most multicultural parts of Barcelona, welcome to El Raval! Found just next to the Gothic Quarter, you'll see all the most important cultural points in the city right here. Such as? Well, in El Raval, you'll find some of the best museums in Barcelona, including the Barcelona Museum of Contemporary Art (MACBA), the Barcelona Maritime Museum, Palacio de la Virreina, as well as the Barcelona Centre for Contemporary Culture (CCCB). Why not visit them all!
This Barcelona neighbourhood is also well known for its bars and restaurants, where you can discover traditional Catalan cuisine and just about anything else you're in the mood for, from local delicacies to international dining, not forgetting authentic Catalan tapas… there really is something for every taste! Round off your day by enjoying a relaxing after-dinner stroll through the neighbourhood, where the streets are full of designer shops and art galleries, a truly unique place in Barcelona!
3. Discover Barcelona's neighbourhoods! Gracia
Barcelona's infamous bohemian neighbourhood, Gracia is well known for its lively atmosphere, its squares that are always full of life, great bars, restaurants and independent shops. The area is especially famous for its popular festival, Fiesta Mayor de Gracia, which takes place every August, a fiesta full of music, food and fun. Don't miss out!
4. El Born, in the center of Barcelona
A historic neighborhood with a unique essence located in the heart of Barcelona, that could be the introduction to El Born. Known for its stunning fashion shops and boutiques, its cafes, and tapas bars. What else can you find? We recommend paying a visit to the Picasso Museum, which houses one of the most important collections of his works. It is also renowned for its lively nightlife, so if you're not tired at the end of the day, you can continue exploring this neighborhood at night.
5. Poblenou, the industrial vibe
Are you looking for an industrial vibe on your trip to Barcelona? Poblenou is the place for you! Former industrial factories, repurposed into coworking spaces, events, and top design schools, have found their home in this part of the city. We recommend taking a stroll through this neighborhood and paying attention to every detail, as you'll come across art and impressive graffiti in every corner.
6. El Poble Sec
Situated on the slopes of Montjuïc, El Poble Sec has become one of the most interesting and vibrant neighborhoods in Barcelona. When you visit this neighborhood, you'll find some of the best bars and restaurants in the city, theaters, concert venues, and spaces that are different from the rest of the city. Its bohemian atmosphere will leave you captivated, so go ahead and discover it!
Categories: barcelona
« Barcelona in 3 days: must-see places